stop the jacobs balboa park plan
stop the jacobs balboa park plan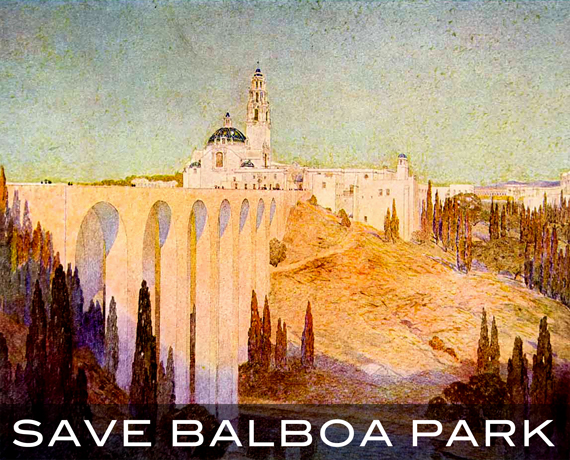 The San Diego City Council votes Monday on the Irwin Jacobs bypass bridge and parking garage proposal for Balboa Park. The $45 million dollar plan brings vehicles into the heart of the park via an unnecessary bridge and throws in some 30 foot retaining walls in Palm Canyon for good measure.  In an era where cities around the world are devoting more space to cyclists, pedestrians and public transit, it's 1960 all over again in San Diego.
Do you really think this plan would fly in Central Park, where they simply close the roads to autos on weekends?  Or in Golden Gate Park?  I've just returned from Portland where this would be called out for the abomination that it is. Yet we're less than 48 hours away from a likely City Council approval of a plan that could cause the park to lose its National Landmark status granted by the National Park Service.  I say "likely" because Council members know better than to cross Jacobs and his money/clout in San Diego.  One has to wonder just what our elected and appointed representatives wouldn't allow rich folks to do on public land in this town – after all, the Port District's overrode the objections of their own art commission to approve the permanent Kissing Sailor/Nurse statue on the harbor front downtown, once wealthy backers came up with the funds.
When I think of Jacobs' car-first plan for Balboa Park (a new road right through the heart of the park – really?), I keep coming back to Robert Moses and what his highways did to New York City during the 1950's and 60's.  Like Jacobs, he refused to make any compromises to his road plans, which proceeded to divide and destroy established neighborhoods.  As described in the excellent public transit book Straphanger, it wasn't until Moses tried to build a parking lot on Central Park's Tavern-on-the-Green, and build a four-lane road through Washington Square Park, that community protests led by Jane Jacobs resulted in public pushback against his plans.  And just as Jacobs's supporters would have you believe the Balboa Park plan opposition is nothing but a fringe bunch of preservationists, Moses complained of his protesters: "There is nobody against this, nobody, nobody, nobody, but a bunch of, a bunch of mothers" (the Tavern protest was a line of women with baby carriages facing down a bulldozer).
Don't forget that a big part of Jacbos' plan is an extensive valet parking service for the wealthy patrons of the Old Globe Theater.  Just as Moses made the overpasses on freeways a foot too low for buses and their low-income riders to reach Jones Beach on Long Island, it's clear who's going to benefit most from this plan.
If and when the bridge and garage are constructed, future generations will ask why we allowed wealthy private interests to do such damage to a San Diego public treasure, and the precedent we set for the rest of our civic institutions. Simply closing Cabrillo Bridge on weekends and for special events, and instituting shuttle service to exterior parking lots would achieve the plan's main goal: removing cars from the Plaza de Panama.
The City Council will vote this Monday, July 9th at 2 PM.  A protest, led by SOHO San Diego, is set for noon that day, which you can sign up for on Facebook via the preceding link.